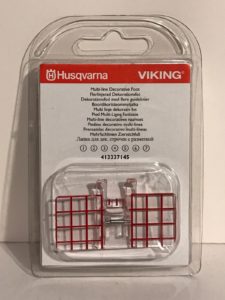 Viking Husqvarna Multi-Line Decorative Foot – 413 33 71-45 – Fits 1-7 Machines
This foot will work with ALL Husqvarna Viking Sewing Machines which have snap on feet 1 through 7.  
Use the Multi-line decorative Foot to create even spacing borders with decorative stitches or as a guide when sewing Omnimotion and side-motion stitches. Guidelines are provided for accurately turning corners of ¼" (6 mm) and ½" (12 mm) measurements.
Free Shipping in Domestic USA