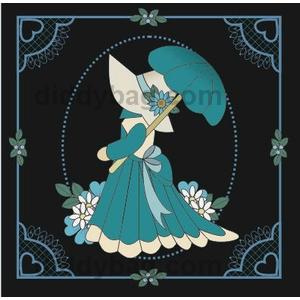 Elegant Grace is at the top of her social circle and embellishes everything she does with pure elegant grace. From gardening to simple strolls under her umbrella she carries herself with poise and perfection. Enjoy her in twelve designs and four sizes.
They make a special quilt. Possibilities are to mirror image each design which would give you 24 blocks. This will make a nice size quilt. Each doll has appliqued fabric for the dresses. It sews an outline for the fabric. Cut a piece larger than the outline. Lay it over the outline and make sure it is all covered. The next will sew the fabric down. Take the hoop from the machine but do not take the fabric out of the hoop. Trim close to the stitching and make sure not to cut the threads. Put the hoop back on the machine and continue sewing. Once all the fabrics are sewn down and trimmed, it will sew the embroidery stitches to finish the block.
Included in the CD: 4 sizes of designs. 4×4, 6×6, 8×8, 10×10 only in VP3 for the Husqvarna Viking Epic.
12 designs
These designs are in multi formats: , VP3, PES, JEF, XXX, EXP, DST, HUS
Each design is in applique and embroidery.